This week we are discussing the disappearance and murder of Roxie Faizy in Broken Bow, OK. Why was this pillar of the community murdered? Was this a crime of passion perpetrated by an angry lover? If not, was an innocent man convicted? Grab a beverage and join us as we enjoy wine from
Knotted Rope Winery
, and discuss the details of this case!
Bad Love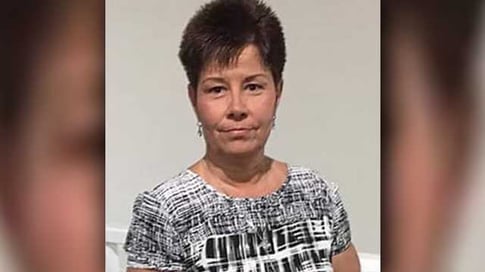 On January 25, 2019, Roxie Faizy, a 56-year-old woman, went missing. Despite extensive search efforts by her family and local authorities, her body was not discovered for almost two months, when it was found on March 18, 2019.
Roxie, who was 5-foot 3-inches tall and had two tattoos on her leg, one of an anchor and one of a palm tree, was born in Arkansas in 1962. She spent most of her childhood in Smithville, Oklahoma. She graduated from Smithville High School in 1980 and had a diverse work history, including working in the hotel industry, running her own daycare, running a cleaning company, and even owning a grill called Roxie's Icehouse Grill in Idabel, Oklahoma. She was known for her love of cooking and had plans to start a catering business when she finally retired.
Before her body was discovered, her family offered a $10,000 reward for any information that led to finding her. Roxie's daughter, who lives in Canada, was the one who reported her missing. She had two sons, her daughter, a son-in-law, and three grandchildren.
After her disappearance, the police were able to retrace her steps on the day she went missing. They interviewed her live-in fiancée, Brian McMahon, who claimed that he had seen her that morning before he went to work, but when he returned home, she was not there. He attempted to call her cell phone but received no answer.
Roxie had been pulled over that day by the Broken Bow Police and was given a warning. The stop was captured on the officer's body cam and the footage showed that she seemed perfectly normal and not distressed. She later visited a tanning salon in Broken Bow and was heard talking about an upcoming trip to Fiji. However, the police investigation determined that she did not take the trip and that the last time her cell phone was used was on January 25.
Roxie's body was discovered by two people near a creek bed in Valliant, Oklahoma, about 45 minutes from Knotted Rope Winery, 25 miles west of Broken Bow, and 2.5 hours southeast of Oklahoma City. She had zip ties on both wrists and a chain around her waist, which was attached to her leg and determined to be a logging chain, indicating that someone may have been attempting to weigh her down.
In September of 2019, Brian McMahon was arrested for Roxie's murder. The investigation revealed that he and Roxie were in the home at the same time before her disappearance, and he left . Shortly after he left, her phone died, and she was never heard from again. Google records also showed that he had visited the creek where Roxie's body was found twice, once the day before her murder and once after her murder. Additionally, he was known to have a broken chain similar to the one found on Roxie's body.
Brian was charged with first-degree murder, and his bail was set at $2 million. His trial was initially set to start in August of 2020 but was postponed due to COVID-19. In October of 2020, his original lawyer withdrew from the case due to his own health issues. In January of 2021, his trial was scheduled for April 19, 2021. Again, due to the pandemic his trial was postponed. However, in February of 2022, Brian waived his right to a speedy trial as his new defense needed more time to prepare for the trial.
The prosecution called various witnesses to testify, including Roxie's family and friends, police officers, and forensic experts. The case against Brian was strong, and he was ultimately found guilty of Roxie's murder. This case serves as a reminder of the devastating impact that violent crime can have on families and communities and the importance of bringing the perpetrator to justice.