This week we are discussing the case of Matthew Phelps, The Cough Syrup Killer in Raleigh, N.C. Did a church pastor in training really murder his wife in cold blood, or were his claims that cough syrup was to blame true? Did this supposed man of god have a dark side waiting to get out? Grab a beverage and join us as we enjoy beer from
Lonerider Brewery
, and discuss the details of this case!
Can Cough Syrup Make You Kill?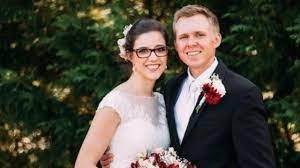 On September 1, 2017, just after 1:00 am, police in Wake County, North Carolina received a frantic 911 call from Matthew Phelps, an aspiring pastor. He was 28 years old and had just discovered his wife, Lauren, who was only 29, dead on the bedroom floor.
Lauren and Matthew had known each other since middle school, and they reconnected on Instagram after going their separate ways. They began dating and were married in November 2016. Tragically, they had not even been married for a year when Lauren was killed.
Lauren grew up in Bowling Green, Kentucky, and attended Holy Trinity Lutheran School. She later moved to North Carolina with her family and began working as an auditor for Quintiles, now known as IQVIA, a healthcare innovations company that focuses on life sciences, therapeutic sciences, and healthcare solutions. Lauren was also a Sunday School teacher and volunteered with the church youth group. She loved working with children and had a special bond with her nieces and nephews, who called her "Aunt Mimi."
Matthew, on the other hand, was an aspiring pastor who studied at Clear Creek Baptist Bible College in Pineville, Kentucky. He had graduated in 2011 and continued to study to become a pastor. He worked for Dunlap Lawn Service, but it is unclear how much he contributed to the couple's finances.
In the 911 call, Matthew told the dispatcher that he woke up covered in blood and didn't remember killing his wife, but he was pretty sure he was the one who had stabbed her to death. He claimed that he had taken the cold medication, Coricidin, the night before to help him sleep and had apparently taken too much of it. He also stated that he was aware that the medicine could make him feel good, which was another reason he had taken it.
Coricidin is a cold and flu medication that is sold over the counter and consists mainly of acetaminophen and Dextromethorphan (a cough suppressant). It is made specifically for people with high blood pressure and is manufactured by Bayer. The medication claims to provide fast relief for fever, runny nose, sneezing, body aches, and sore throat.
However, there is no evidence that the medicine causes the kind of reaction that Matthew described in his 911 call. Bayer took a stand on the issue and stated that they had no evidence of the medicine causing unconsciousness or violence. They did, however, express their condolences to Lauren's family and stated that they would continue to monitor their products to ensure their safety.
One local professor stated that, even though she had never heard of this drug causing violence, it was plausible. She said that aside from the side effects of hallucinations and euphoria, agitation is a side effect, and an overdose could potentially cause violence.
In conclusion, the death of Lauren Phelps is a tragic event that has shaken the community. Her friends and family have described her as bubbly, loving, and devoted to working with children. Matthew Phelps is currently facing charges for her murder. The investigation is ongoing, and the authorities are trying to piece together what happened on the night of September 1, 2017. As we wait for more information and the outcome of the trial, we send our condolences to Lauren's family and friends.