Hey there fellow true crime enthusiasts! Get ready to grab a cozy seat, pour yourself a drink, and join us on a wild ride through the heart of North Dallas. This week, we're diving deep into the chilling case of the Texas Elder Murders. How did one man, Billy Chemirmir, manage to sneak into senior living communities and take the lives of at least 24 innocent women? The twists and turns in this case will have you on the edge of your seat! And, to sweeten the deal, we'll be trying a delicious Bourbon Cream Liqueur from
Lockwood Distilling Co.
in Richardson, TX. Trust us, you don't want to miss this episode!
The Tragic Murder of Over 20 North Texas Elderly Women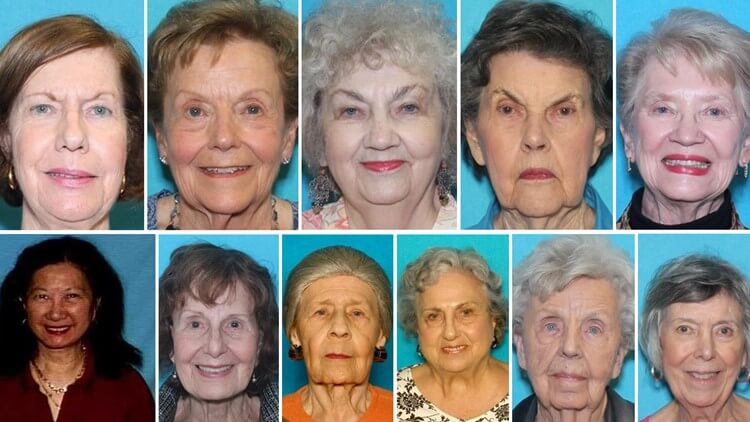 Image Credit: WFAA
Elder abuse is a growing concern in Texas and across the country, with cases of elder murder on the rise. The elderly population is particularly vulnerable, often being targeted for their assets and left at the mercy of perpetrators with malicious intent.
The state of Texas has seen its fair share of notorious criminals, but few have left such a devastating impact as Billy Chemirmir, the Kenyan-born serial killer who is accused of killing at least 24 elderly women in North Texas. This string of slayings, known as the Texas Elder Murders, has captured the attention of true crime enthusiasts and the general public alike, making Chemirmir one of the most prolific serial killers of the 21st century.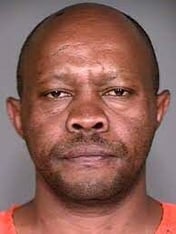 Chemirmir, who was living in Texas as an illegal immigrant, was first arrested in 2018 for the murder of 81-year-old Lu Thi Harris. According to police, Chemirmir posed as a maintenance worker and gained entry into Harris' house, where he suffocated her and stole her jewelry. A Walmart surveillance video was used to help identify Chemirmir, and he was found with the victim's jewelry and house keys in his possession, leading to his arrest.
Upon his arrest, investigators discovered a disturbing pattern of similar crimes in North Texas. In total, Chemirmir is believed to have murdered at least 24 elderly women, most of whom were living in assisted living facilities or independent living communities. The victims, who ranged in age from 76 to 94, were suffocated or smothered to death.
The modus operandi of Chemirmir was frighteningly simple. He would pose as a maintenance worker or health care professional, gain access to the victims' homes or apartments, and then kill them and steal their valuables. According to police, Chemirmir targeted vulnerable elderly women who lived alone, as he believed that they would be easier to overpower and less likely to put up a fight.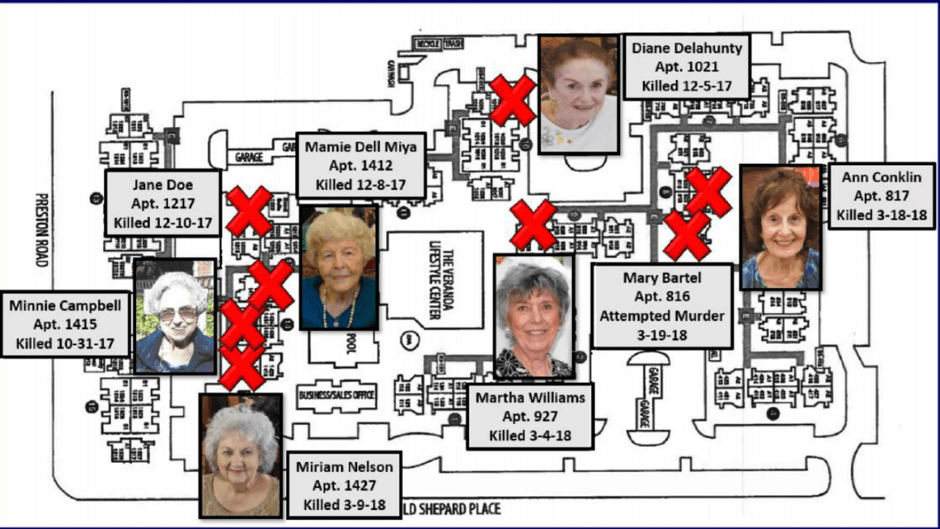 Image Credit: WFAA
While the full extent of his crimes may never be fully known, North Texas prosecutors were able to secure indictments for the murders of twenty-four women. Although his charges are significant, to date Billy Chemirmir has only been tried for two of the murders. In 2021, he was tried for the murder of Kim Harris. While the first jury was hung, a retrial for the murder five months later would find Chemirmir guilty. He was also found guilty in another trial for the murder of Mary Ann Brooks. At the time of his second conviction, Billy was 49 years old.
In both cases, the state declined to pursue the death penalty, and Chemirmir was sentenced to life in prison. While some feel that two life sentences is justice, there are others that are angry and frustrated at the decision to forgo the death penalty. The nephew of one of the victims, Catherine Sinclair, feels that not only are families missing out on justice for their loved ones, but the state is also wasting money keeping him in prison. As of October 2022, Collin County prosecutors had not said whether they would move forward with putting Billy on trial, and Dallas County will not be trying him again for any other murders. Billy had however been named in multiple civil suits.
It is important to remember that this case is ongoing and spanned much of North Texas. It affected families in Plano, Richardson, Dallas, Frisco, and possibly more. Remembering the victims is incredibly important, and the victims' family members have done just that. Combining their efforts, they formed a charity non-profit group called Secure Our Seniors Safety. Headquarters in Addison Texas, the group aims to assist seniors and protect them against crimes like the ones that Billy committed. The group also helped pass a law that requires medical examiners to notify a deceased person's family if their autopsy report changes. It also requires spot-checking at local area cash for gold shops. Visit the Secure Our Seniors Safety Website to hear the life stories of the victims, learn more, and help support the organization.